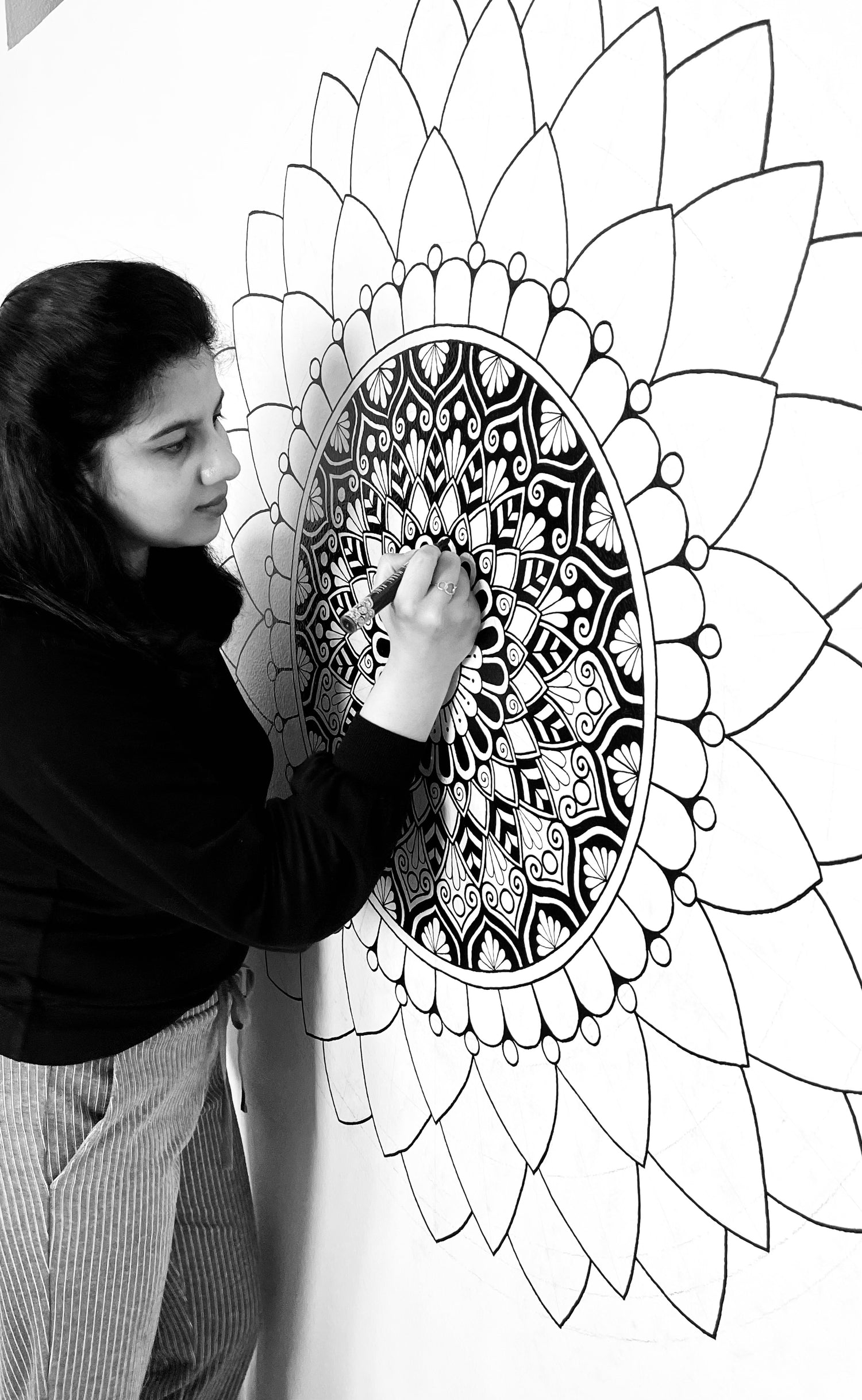 Hi! My name is Saudamini Madra, an artist based in Durham. I create hand drawn illustrations, mandalas, zentangles, and fine art textures, which I share to inspire my global audience!
Background
Born in New Delhi and raised in Chandigrah, India, I have always been artistic and interested in visual arts. I was inspired by the ornate designs and motifs I saw at temples and other Mughal architecture, which led me to pursue higher education in artistry. I studied Fine Arts in college and learned many different art forms. Black and white ink art has always been my favorite!
I completed a Masters in Fashion and worked in the industry for 15 years. I moved to Los Angeles 11 years ago to work in the fashion industry. My job would keep me busy, and I would turn to art to de-stress.
In 2017, I was drawn to mandala art. I was completely mesmerized by mandalas and practiced every single day, improving with each piece. I had found a new passion and it was very exciting as my love for black and white art flourished once again!
In 2019, I quit my job and am now working on mandalas full time. I dedicate my time in creating new artwork and classes that other aspiring artists find helpful. I recently relocated to Durham and bought a house with my husband, so follow along as I remodel and decorate my new home!
Collaborations
My distinctive creations have attracted more than 138,000 followers, influencers, and brands from across the globe. I have collaborated with Adobe, Google, Deep Indian Kitchen, Sakura of America, and more for custom artwork, brand logos, designs for yoga mats, and other unique social media campaigns. Let's make something special for you! Send me an email and I will provide my media kit.
Stores & Resources
My shop contains originals and prints of my artwork, and you can find some of the amazing materials I use to compose my artwork at my Amazon Shops:
I'm also a fervent supporter of learning creative skills on Skillshare. Follow my link to sign up today.
You can read more about me and my artwork in these interviews and press mentions.
Press & Interviews
A multitude of outlets have honored me and invited me to speak about my artwork:
Everything Else
Please send me an email at saudamini.mandala@gmail.com and I'm happy to discuss how I can create the perfect piece for you. Thanks for stopping by!